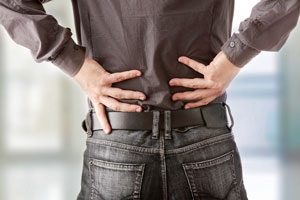 Glacier Chiropractic offers exceptional back pain treatment and pain relief in the Ballard neighborhood of Seattle, WA. Our chiropractic clinic sees patients suffering from back pain that stems from a variety of causes. Through a holistic approach, we aim to ascertain the source of your discomfort and work to treat your condition. Chronic and persistent back pain doesn't have to control your life anymore.
Common Back Pain Complaints
Millions of people across the country are constantly suffering from back pain. Sometimes you may have just slept wrong and pulled or twisted something, other times you may be suffering from a more serious problem that needs to be addressed. Glacier Chiropractic is one of the few places open for all patients for back pain treatment in Seattle. We see patients from all walks of life, suffering from separate maladies, and that have been in pain for varied periods of time. Chiropractic care may be an option to consider for the continued management of back pain. Come see what we can do for you.
Acute Lower Back Pain
Chronic Back Pain
Lower, Middle & Upper Back Pain Treatment
Work Injuries, Sports Injuries & Car Accidents
Arthritis & Osteoporosis
Pulled & Strained Muscles
Spinal Stenosis
Scoliosis (curvature of the spine)
Vertebrae Misalignment
Poor Posture
Upper & Lower Back Pain Relief
Glacier Chiropractic practices a wide range of upper and lower back pain treatment approaches. Based on the patient's previous history, type and severity of pain, our Chiropractors will proceed with the most appropriate action. Treatment suggestions for the management or alleviation of back pain may include the following:
Chiropractic Adjustments
Rest & Avoidance Of Heavy Lifting
Heat & Ice Packs
Exercise & Low Impact Aerobic Exercise
Physical Therapy
Posture Correction
Potential Causes Of Your Pain
There are numerous causes of back pain. The roots of the pain include infections, tumors, acquired conditions, diseases, injuries and mechanical problems. Back pain is typically thought of as a symptom of a greater medical condition. Although sometimes the diagnosis of that condition can elude those in search of a definitive cause.
Mechanical problems – are typically associated with the way the vertebrae in your back move.
Injuries – include sprains and fractures, either of which can cause short-lived or chronic pain.
Acquired conditions and diseases – include things like scoliosis, kidney stones, osteoporosis, arthritis, and spinal stenosis.
Infections and tumors – the least common causes of back pain include illnesses such as osteomyelitis or cancer.
Back Pain Treatment In Seattle
At Glacier Chiropractic, we offer treatments that help you holistically deal with back pain and find relief. Don't let the relentless pain in your back keep you from living your life to the fullest. Schedule an appointment in advance for the fastest service possible at our Ballard location in Seattle, Washington.