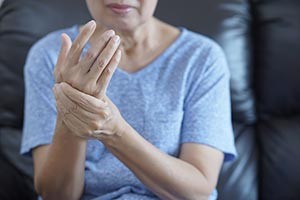 Get the relief you need with Chiropractic care for arthritis in Ballard and Seattle, WA, at Glacier Chiropractic. We have effective treatment to help relieve your arthritis pain. Many of our patients are tired of living a limited life and have been turning to our holistic chiropractic services to ease the pain associated with arthritis.
Help For All Types Of Arthritis
It's estimated that one in every five adults in the United States will be diagnosed with some form of arthritis. Contrary to popular belief, two-thirds of those suffering from rheumatoid arthritis are not considered elderly. We understand that there is a myriad of reasons you may develop arthritis and that depending on what type of arthritis you've been diagnosed with, symptoms can affect your digestive system, organs, immune system, and even your mental health. Some of the most commonly diagnosed kinds of arthritis include:
Metabolic Arthritis
Fibromyalgia
Osteoarthritis
Psoriatic
Lupus
Gout
Get Your Mobility & Quality Of Life Back
All forms of arthritis can cause pain, swelling, and a reduced range of motion. If you are suffering joint inflammation and overall pain, you may benefit from a regular treatment plan of chiropractic adjustments. We can design a unique program adjusted to your physical needs and schedule constraints. Just some of the benefits of chiropractic care for rheumatoid arthritis include:
Improved Balance And Posture
Increased Range Of Motion
Reduced Inflammation
Reduced Drug Use
Agility
Convenient Chiropractic Care
Does it feel like the chronic pain related to your arthritis affects every aspect of your life? Symptoms ranging from poor sleep to what seems like pain with every movement can be helped with routine chiropractic care. We want to help you get your life back as soon as possible. So, we offer convenient bookings on all of our chiropractor services.
Feel Better In Ballard
If you've been diagnosed with arthritis due to injury, age, infection, or illness and are searching for an alternative to over-the-counter painkillers, prescription drugs, or invasive joint surgery, the spinal adjustment specialists at Glacier Chiropractic look forward to helping you. We offer chiropractic care for arthritis in the Ballard Seattle area. Contact us to make an appointment.