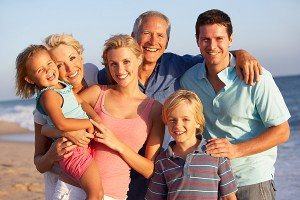 Chiropractic Care in the Seattle neighborhood of Ballard from Glacier Chiropractic can help every member of your family—from your newborn child to your great-grandparents. Chiropractics isn't just for those recovering from automobile accidents, work injuries, or the physical effects of aging. Our chiropractors use advanced techniques, and we provide services for everyone.
The Advantages Of Regular Adjustments
Even if you aren't in severe pain, you can still reap the many health benefits of chiropractic adjustments. A misaligned spine affects both your nervous and immune systems, leading to aches and pains throughout your whole body.
People who regularly visit a chiropractor can enjoy better joint mobility, stress relief, a more robust immune system, improved cognitive ability, and increased overall health and wellness.
Chiropractic Care For Seniors
Chiropractic adjustments can provide natural and holistic pain relief to seniors. As we age, our joints and spines naturally degenerate, which can lead to a variety of problems, such as:
Arthritis
Chronic Pain
Reduced Joint Mobility
Back Pain
Neck Pain
Herniated Disc
Sciatica
Services For Parents
Chiropractic care can help with the aches and pains of the typical desk job. Some of our specialties include relief from the wear-and-tear caused by manual labor and the fatigue induced by chasing young children around all day. Getting an adjustment may help reduce:
Other Repetitive Stress Injuries
Pregnancy Chiropractor
Pregnancy causes a significant shift in your center of balance, so it's no surprise that you may be experiencing joint pain, soreness, and fatigue. Our pre and postnatal services can help reduce:
Lumbar Pain
Pelvic Tension
Leg Soreness
Back Pain During Future Pregnancies
Adjustments For Teenagers
If heavy backpacks, intense sports practices, and spending hours hunched over at a desk doing homework sound like your teen's daily schedule, it may be time to make an appointment with Glacier Chiropractic. We can provide holistic treatments for:
Mood Imbalances
Poor Posture
Asthma & Allergies
Safe Chiropractic Care For Kids
One of the greatest gifts you can give your child is the gift of a healthy spine. If your little one is experiencing musculoskeletal discomfort, pain, or behavioral issues, it may be time to consider visiting a family chiropractor. Kids chiropractic care can be an excellent treatment for:
Sports Injuries
Growing Pains
Hyperactivity
Bed Wetting
Sleep Issues
Even Babies Can Benefit
Birth is a physically traumatic experience for both the mother and infant, but visiting a family chiropractor is a safe way to restore balance to your baby's body. Spinal misalignments can impact a baby's nervous system or put pressure on their internal organs, which can contribute to:
Colic
Poor Digestion
Sleep Difficulties
Fussiness
A Weakened Immune System
Breastfeeding Difficulties
Family Chiropractic In Seattle
Our experienced staff will give each member of your family a thorough examination and tailor individualized chiropractic treatment plans accordingly. Don't wait until you or your loved one's pain becomes debilitating to seek help. Call today and schedule an appointment in Seattle at Glacier Chiropractic to learn more about our safe, holistic care plans.