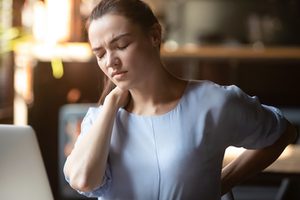 If you are looking for nonsurgical, chiropractic fibromyalgia treatment in Seattle, Glacier Chiropractic is here to help. We offer complimentary alternative therapies to help relieve and reduce the painful symptoms of fibromyalgia by utilizing your body's natural healing capabilities.
What Is Fibromyalgia?
Fibromyalgia is considered to be one of the most common chronic pain conditions in the US. This painful condition affects about 1 in 50 people. So, you are not alone. Doctors haven't pinpointed one cause. Current theories suggest that fibromyalgia affects the way your brain processes pain, causing it to be spread and amplified throughout the body.
As you probably already know, fibromyalgia can be extremely difficult to diagnose. Symptoms often mimic those of many other conditions. 
Common Fibromyalgia Symptoms 
Excessive Sleeping

Mood Swings

Fatigue

Memory Loss

Brain Fog

Pain
Other Comorbid Conditions 
Irritable Bowel Syndrome

Temporomandibular Joint (TMJ) Disorders

Anxiety

Depression
How Chiropractic Care Can Help
Many doctors rely on pain medications to treat the symptoms of fibromyalgia. Not only are you not addressing what's actually causing the pain, but you are also left with undesirable side effects and the possibility of addiction. 
Chiropractic care can be an effective alternative treatment for your fibromyalgia pain and discomfort. 
Chiropractic Adjustments

 – Regular chiropractic adjustments help the connection between the body and the nervous system. This allows the brain to process your pain signals more accurately.

Physical Therapy Exercises

 – Many patients find it too painful to move or exercise regularly on their own. Unfortunately, not moving can exacerbate your condition. Gentle, approved stretches and exercises, can help you with existing pain and allow you to move more with less pain in the future.

Lifestyle Adjustments

 – The recommendations you receive for adjusting lifestyle will depend on many factors and vary greatly from one patient to another. We will work with you and make recommendations specific to your unique needs. We want to help you find ways to live as comfortably and pain-free as possible.

Nutritional Recommendations

 – Diet is something that can play a key role in the way that our bodies function. We may offer some nutritional advice or guidelines for some of our patients dealing with fibromyalgia.
Get Treatment For Fibromyalgia Pain In Seattle, WA
Our fibromyalgia chiropractor looks forward to helping you overcome your pain and increasing your mobility. We are happy to be able to offer you healing, alternative treatment options for fibromyalgia.
Contact us at Glacier Chiropractic today to schedule an appointment at our Seattle office conveniently located in the Ballard Neighborhood area.