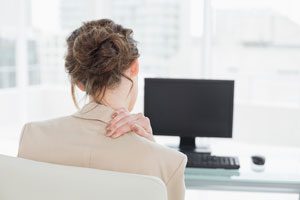 If you are like millions of other Americans suffering from neck pain, look no further than the healing hands of Glacier Chiropractic in Ballard, Seattle. The staff and providers in our office work diligently to ensure that you receive the highest level of care in a comfortable, relaxing atmosphere. We can't wait to show you what pain-free feels like.
Causes Of Neck Pain
Many times the normal activities of everyday life can trigger or cause neck pain. Lifting heavy objects, sitting at your desk all day, and typing away at the computer can all add to the wear your body experiences over the course of years. With age, disorders such as osteoarthritis and degenerative disc disease become more apparent. Trauma caused by injuries or accidents also take their toll. A few of the most common causes of neck pain are listed below.
Bones Or Joint Abnormalities
Car Accidents & Head Trauma
The Natural Aging Process
Poor Posture
Degenerative Diseases
Tumors
Muscle Strain
Autoimmune Disorders
Neck Pain Treatment
We get it. You want to stop neck pain and get on with your life. The best approach for your neck pain treatment largely depends on the degree and severity of the pain you are feeling. There are a few noninvasive, non-drug pain treatment techniques that may benefit you as a part of your unique, comprehensive pain management plan.
Exercise – Exertion increases strength, flexibility, and normal motion. Passive and resistive exercises might be appropriate for your neck pain.
Behavior Modification – We can teach you how to alleviate pain through a variety of relaxation and coping techniques.
Manual Manipulation – This technique is also known as manual adjustment. Force is applied to the joints, muscles, and ligaments to help bring you pain relief.
Heat/Ice Techniques – The use of hot and cold packs, ultrasound, and diathermy can all be used in combination with your exercise program.
Get Lasting Neck Pain Relief In Ballard, Seattle
If you're looking for a chiropractor for neck pain in Ballard, your search ends here. We practice an integrative approach to healing with a focus on minimally invasive techniques. The providers at Glacier Chiropractic look forward to meeting you and bringing you the pain-free life you've been wishing for.
Please call for an appointment for neck pain treatment today or stop by the office for your first appointment. Everyone is always welcome to schedule an appointment for fast service.