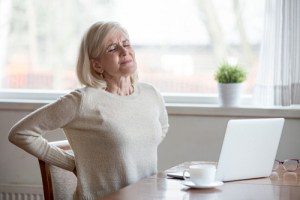 If you need a back pain chiropractor in Seattle WA let the experts at Glacier Chiropractic help you with sage and natural treatment. We work on your entire spine from top to bottom to help relieve that throbbing pain in your mid back area.
Causes Of Middle Back Pain
Many people experience problems in the lower and upper back areas, but even the thoracic spine, more commonly known as the middle back, can plague you with discomfort. Mid back pain can be caused by a variety of lifestyle choices, injuries, and conditions.
Bad Posture
Inflammation Of Your Muscular Connective Tissue
Osteoporosis
Osteoarthritis Of The Spine
Spinal Stenosis (Narrowing Of The Spinal Canal)
Muscle, Disc & Ligament Strain
Vertebral Fractures
How To Identify Middle Back Problems
Pain manifests itself in a variety of ways, as well as differing levels of intensity. A range of symptoms might indicate a problem with your mid-back, even when your pain is minor, or you feel weakness, numbness, or tingling in your arms or legs.
Constant, Dull Aching
Sharp Pains
Tightness And / Or Stiffness
Difficulties Breathing
Reduced Mobility
Weakness In The Limbs
Numbness Or Tingling In The Limbs, Stomach, Or Chest Area
Ignoring Symptoms Won't Make Them Go Away
Even minor pain can be masking a problem that can get worse the longer it goes unattended. Your spine is one of the most important parts of your body. If symptoms such as those listed above persist, you should consider calling a chiropractor today.
Natural Pain Relief Through Back Pain Chiropractic Treatment
At Glacier Chiropractic, we know that no two people are alike. Every patient receives a custom treatment plan based on your examination results. You may need a series of adjustments or other back treatments during your visit.
Our back pain doctor might also ask you to do strengthening and stretching exercises at home, use heat or ice packs for temporary pain relief, or even undergo some physical therapy.
A Seattle Chiropractor For Mid Back Pain
Glacier Chiropractic is a Seattle and Ballard family chiropractic clinic that offers effective and caring treatment aimed at restoring you to optimal spinal health. Call today for your middle back pain consultation and get started on the road to better back health.