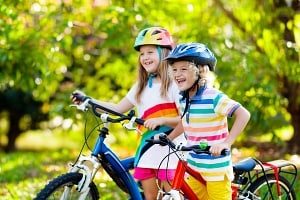 At Glacier Chiropractic, in the Seattle neighborhood of Ballard, we treat patients of all ages, including athletic children. Active families can range from weekly hikes or visits to the park to having multiple children in multiple sports with mom or dad coaching. Slips, trips, sprains, strains, and even tackles happen in an instant. Let us keep everyone in tip-top shape and quickly on the mend.
Chiropractic Care For Kids In Sports
Sports and other rigorous activities are great for keeping kids healthy and fit. Whether your child is involved in team sports or engages in individual activities, accidents and injuries can and do often happen.
Football
Baseball
Rugby
Soccer
Gymnastics Or Tumbling
Trampoline Jumping
Cycling
Swimming
Dance & Cheer
Martial Arts
A Chiropractor For The Whole Family
Chiropractic care for kids has many benefits. For instance, our family chiropractor can educate your kids on safe stretching techniques to prevent injury. If an accident happens, we can also help children who have sustained a sports injury achieve safe and natural pain relief and healing.
Other Benefits Of Family Chiropractic
Although we have expertise in treating childhood sports injuries, you don't need to wait until your child has been hurt to start seeing a kid's chiropractor. Subluxations, or spinal misalignments, can impede healthy mental and physical function in many areas of the body.
Pediatric chiropractic care may help with your child's:
Nervous System
Immune System
Sleep Patterns
Stress Reduction
Attitude & Behavior
Care For Kids Of All Ages
Chiropractic care is safe for all ages, although the techniques used are different depending on whether we are treating a baby, toddler, active older child, or adult. Babies and toddlers can benefit from chiropractic adjustments to remove subluxations gained during the birthing process or from falls sustained as a growing toddler learns to stand, walk, and run.
Older children, especially those who participate in athletics, benefit from regular examination and adjustments to help prevent or treat injury, encourage proper development, and ensure optimal all over wellness.
When You Can't See What Hurts
Sprains, concussions, and broken bones can heal, but sometimes they leave hidden damage in the form of spinal misalignment. Regular chiropractic care is essential for active and athletic kids so that such issues can be treated promptly, preventing long-term problems from developing.
If your child has had a sports injury or is experiencing pain, discomfort, or decreased range of motion, our family chiropractor may be able to help get them back in the game.
Headaches
Neckaches
Backaches
Uneven Gait
Balance Issues
Posture Issues
Shoulder Or Knee Injuries
Your Family Chiropractor In Ballard
At Glacier Chiropractic, our kid-friendly chiropractic team will do our best to help your active family achieve good spinal health so that you can experience optimal performance on and off the athletic field. If you live in the Seattle area, contact us today to make your next appointment.