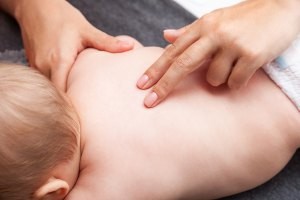 If you are looking for a gentle, experienced baby and toddler chiropractor in the Seattle area, look no farther than Glacier Chiropractic. Our team is specially trained in pediatric adjustment and can have your little one on the road to being happy, healthy, and well-adjusted in no time.
Safe Chiropractic Adjustment For Babies
What can we say? Being born is hard work. Believe it or not, a surprising number of newborns need to be adjusted from the trauma they experience during labor and delivery. These adjustments can ease many difficulties, such as colic and irritability.
Benefits Of A Pediatric Chiropractor
As babies grow and become mobile, clumsy toddlers, their bumps and falls can also be a cause of spinal misalignment. A qualified and experienced baby chiropractor can assist in bringing relief and ensuring healthy growth in the following areas:
Bowel Movements
Irritability & Colic
Sleep Issues
Potty Training
Latching
Reflux
Natural & Non-Invasive Care For Your Little Ones
Unlike some other methods for treating babies, chiropractic adjustments are gentle, natural, non-invasive, and drug-free. This is good news for health-savvy parents who are looking for natural alternatives in infant and toddler care.
Safe, Effective, Holistic Treatment Options
Our skilled chiropractor for babies provides safe and effective treatment options for many pediatric complaints. Most infants and toddlers enjoy their visits and feel relaxed and happy throughout the process.
Helping You Get Some Rest
Parents who are well-rested are better able to meet the demands of parenting. Lack of sleep causes many stress responses. One of the most important benefits a chiropractor can assist with is better sleep quality for infants and toddlers.
While not a cure-all or guarantee, most little ones who have been adjusted sleep better and sleep through the night sooner. More rest is good for the whole family.
The Latest In Chiropractic Care
At Glacier Chiropractic, we are committed to staying up-to-date on the latest techniques and treatments available. As a chiropractor for toddlers & babies, we love to see families thrive.
Prevention For Peace Of Mind
We focus on preventative care as much as possible, which is why we are so passionate about maintaining proper alignment and adjustment right from the start. A happy, healthy, well-developed child is our goal.
Your Baby & Toddler Chiropractor In Seattle
At Glacier Chiropractic, we proudly serve Seattle and the Ballard neighborhood. We bring compassion, experience, and a gentle touch to every patient, but especially babies and toddlers. Contact us today to schedule an appointment for your little one.