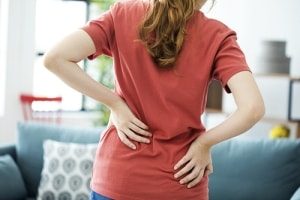 If you live in the Seattle and Ballard area and are experiencing epidural side effects after childbirth, such as shooting or burning pain, Glacier Chiropractic is ready to help. Back pain after an epidural is a widespread occurrence and can persist for weeks or even months after delivery. Fortunately, chiropractic care has helped many women find safe and natural pain relief from epidural side effects.
Back Pain & Pregnancy
Pregnancy and the birthing process are incredibly hard on the body, especially the back. The expectant mother's posture changes as her abdominal muscles stretch and her ligaments and joints loosen in preparation for baby's arrival, putting extra pressure on your spine.
The expanding uterus and weight of the baby also cause postural changes, which can lead to back pain and strain.
Motherhood Contributes To Postpartum Back Pain
Unfortunately for many new mothers, giving birth doesn't result in back pain relief. Sometimes, back pain gets worse after delivery. There are multiple activities which can contribute to back pain after childbirth, including:
Having An Epidural
Pushing During Delivery
Bending
Carrying & Lifting Your Baby
Rocking
Holding Baby While Breastfeeding
Epidural Side Effects
Many women opt to have an epidural during labor, to help relieve the intense pain of childbirth. However, over 30% of mothers report side effects, including injection site pain, weak core muscles, hip or back instability, sharp pain while standing or sitting, and numbness or pain in the back.
Epidural back pain can make it harder to take care of baby. Breastfeeding moms are also often reluctant to take painkillers that might be passed along to a newborn.
Chiropractic Care For Back Pain After Childbirth
At Glacier Chiropractic in Seattle and Ballard, we can help you find relief from your epidural back pain. Whether you started seeing us during your pregnancy, or are seeking treatment as a new postpartum patient, we will tailor a treatment plan just for you.
Your postnatal chiropractic care will depend on the result of your initial examination and may include spinal adjustments as well as recommended stretches and exercises to help realign and strengthen your spine.
Get Relief From Epidural Back Pain
Don't let that nagging epidural back pain interfere with the joys of motherhood. We are a family chiropractic practice and can also help your baby maintain excellent spinal health, so don't hesitate to call our experienced and caring team for an appointment today.