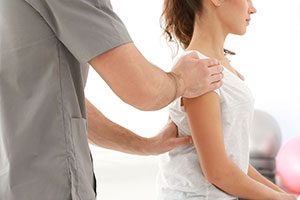 Fix poor posture naturally at Glacier Chiropractic, located in the Ballard neighborhood of Seattle. Believe it or not, having good posture can also have a positive effect on many other areas of your life like confidence levels and physical health.
Some common habits or conditions may be causing or aggravating your bad posture.
Repetitive Movements
Uncomfortable Shoes
Excess Body Weight
Migraines & Headaches
Weak & Sore Muscles
Pregnancy
Stress
Proper Posture – What's Holding You Back?
To avoid the painful symptoms associated with poor spinal alignment, it's essential that you consider all areas of your life and how they may be hurting your back. Correcting your sitting, standing, and sleeping positions can help to improve posture.
Let us help you fix slouching and uncover what's hurting you before you start suffering from consequences like a hunched back or back pain. Our posture chiropractor can teach you the correct ways to position your body while at work, school, and home for better total body wellbeing.
What Good Posture Can Do For You
Having good posture benefits the entire body from boosting your immune system to getting you better sleep at night. Maintaining correct spinal alignment throughout the day can help in many ways.
Straighten Your Back & Lower Pain Levels
We can help you reduce back pain and stand a little straighter with regular chiropractic care. A customized treatment plan including exercises for posture, spinal adjustments, and teaching you better positional habits will help you reap all the benefits of good posture.
All that time in your car, at the gym, or while you work can add up to better posture when you know how to position your body.
Your Seattle Better Posture Doctor
Start looking and feeling better, faster than you thought possible with professional posture correction treatments. Call us at Glacier Chiropractic in the Ballard neighborhood of Seattle to make your appointment for a better back and more comfortable life. We love supporting you in ways that promote your health and wellbeing, naturally.