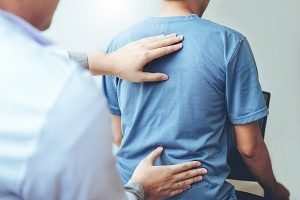 Glacier Chiropractic offers nonsurgical treatment options for spondylolisthesis (slipping vertebrae) in the Ballard neighborhood of Seattle. Our natural, alternative treatments for this condition can help make your pain more manageable without the risks associated with using dangerous and addictive pain medications.
What Is Spondylolisthesis?
Spondylolisthesis may look like a mouthful but simply refers to a spinal condition that affects the lower vertebrae. It is a defect or fracture in one part of your vertebra, which can result in the vertebra slipping forward onto the bone directly beneath it. It is a condition that can be quite painful but is fortunately treatable in most cases.
Symptoms You May Be Experiencing
The symptoms of spondylolisthesis can vary in type and severity from person to person. There are people with mild cases that have not noted any symptoms and are unaware that there is anything wrong. Others may suffer from more severe symptoms and be left unable to handle daily tasks and activities.
Some of the most common symptoms of spondylolisthesis are:
Persistent Lower Back Pain
Low Back Tenderness
Muscle Tightness & Stiffness, Especially In Back & Legs
Pain In The Buttocks
Thigh Pain
Tight Hamstrings
Pain Radiating Down The Legs
Common Causes Of Spondylolisthesis
There are many possible causes of spondylolisthesis. You may have unknowingly had a defective vertebra from birth, or your vertebra may have been broken at some point by a stress fracture or trauma. There are some infections and diseases that can break down the vertebra, as well.
Due to the stressing nature of some sports, it's also commonly seen in children and adolescents who are very active in physical activities like football, gymnastics, and weightlifting.
Natural Spondylolisthesis Treatment Options
Chiropractic care, in addition to other complementary therapies, can help to ease your pain and improve your spondylolisthesis symptoms. At Glacier Chiropractic, we will work to address the spinal joints above and below your slipped vertebra and adjust any misalignments in your spine.
The treatment plan that we propose will vary based on the level of your pain and discomfort and will be custom-tailored for your unique and specific needs. Combined, these spondylolisthesis therapy techniques may help to restore your range of motion and improve your pain.
Chiropractic Manipulations
Therapeutic Exercise
Wearing A Back Brace
Using Proper Body Mechanics
It is important to avoid physical stressors like contact sports during your recovery period to reduce your chances of further injury.
What Will My First Appointment Be Like?
We will take a full medical history and perform a thorough physical exam. These measures will determine the course of treatment that is needed for your specific case. Any necessary spinal adjustments, or manipulations, will be performed. Then, we can instruct you on proper body mechanics as well as exercises and stretches to help.
Find Back Pain Relief In Seattle
If you are ready to find relief from your spondylolisthesis related back pain, and you are in the Seattle or Ballard area, give us a call at Glacier Chiropractic. We accept most insurance plans and offer affordable payment options.
Contact us for an appointment and find relief from slipped vertebrae pain today.