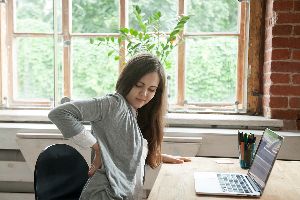 When you experience back pain, it can not only ruin your day – it can debilitate you to the point that your quality of life completely changes. Without proper treatment, you may suffer for months or even years after a work, car, or sports injury. These are just five of the many ways untreated back pain might be controlling your life.
Damaged Relationships
Decreased Work Productivity
Increasing Health Issues
Pain Medication Addiction
Self-Esteem Problems
1. Chronic Pain Hurts Relationships
When you're constantly struggling with chronic back pain, you might not feel well enough to attend gatherings with family and friends. An invitation can quickly turn into an internal battle over whether the effort will be worth all the aches and trouble.
Unfortunately, skipping get-togethers takes a toll on your social life, creating wedges with others who may assume you just don't want to spend time with them.
2. Back Pain Vs. Work Productivity
Whether it's in the upper back, mid-back, or lower back area, no one knows how painful sitting in one position can be like a chronic back pain sufferer. You may find it difficult to stand or sit for extensive lengths of time, which might, in turn, affect your job. You may have to work fewer hours or take more time off of work.
Even if you don't take personal leave, you may find it hard to concentrate. All of this diminishes your ability to succeed at your job.
3. Related Health Problems
If it hurts to bend, walk, twist, and lift, that cut's out a lot of regular physical activity. It's hard enough to shop for healthy ingredients and cook nutritious meals on a good day -meaning more processed foods. When you're not able to take care of yourself as usual, you can experience weight gain, difficulty sleeping, and exhaustion on top of your back problems.
4. Quick Relief Can Turn Into Addiction
Whether you're turning to prescription medications or over-the-counter drugs to help combat the pain, long-term use can ultimately lead to addiction. Before you know it, relief has turned into reliance and yet another problem that can take over your life, deteriorate your health, lose jobs, and ruin relationships.
5. Chronic Back Pain & Your Self-esteem
Have you ever thought about how your physical health is affecting your mental health? When you are not able to see people you care about, succeed at the level you're used to or participate in activities you enjoy, it's not surprising that you may also start to feel down about yourself.
Help For Back Pain In Seattle
Take your life back. If you're sick of medications or are avoiding back pain treatment because you're afraid you'll need surgery, make an appointment with us at Glacier Chiropractic in the Ballard area of Seattle. Contact our office today to explore all of your options and find out how chiropractic care can heal from the inside out by treating the root cause of your discomfort.