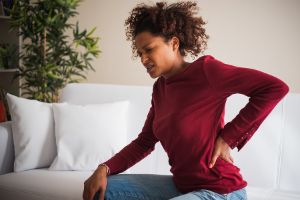 According to the American Chiropractic Association, back stiffness and pain is the third most common reason for doctors' office visits in the U.S. What can those with back stiffness do for relief?
Fortunately, there are options for those who struggle with back pain, stiffness, and inflammation. The proper chiropractic care can address common back problems, offering steady and noticeable improvement.
4 Reasons You Might Have A Stiff Back
Bad Posture
Untreated Scoliosis
Stiff Muscles
1. Improving Your Bad Posture
Bad posture is pervasive in this day and age. Whether it's looking down at our cell phones, sitting at a desk all day, or leading a generally inactive lifestyle, it seems as though having good posture is never the easiest option.
Fortunately, your chiropractor can teach you the best positions for your spine and give you some suggestions on improving the way you stand, walk, and sit. If you sit at a desk for long hours at work, for example, just lifting your computer screen to eye level and getting an under-the-desk keyboard to relax your shoulders can make a world of difference for a stiff back.
2. Chiropractic Adjustments For Scoliosis
With the right chiropractic care, scoliosis pain and stiffness can be effectively treated. If you have scoliosis, consider speaking with your chiropractor about getting a scoliosis adjustment at the office and getting educated on scoliosis-beneficial stretches and other at-home techniques.
3. Back Injury Treatments After A Car Accident
It seems that car accident injuries nearly always affect the spine in one way or another. The extreme jolt of a collision, whiplash due to a sudden stop, and other such tugs and impacts can cause misalignment of the spine and subsequent pain, stiffness, and discomfort.
Fortunately, a chiropractor can use special techniques to treat inflammation, restore range of motion, and reduce the amount of permanent scar tissue.
4. Loosening Tight Back Muscles
While it may seem that an uncomfortable back must be an issue involving the spine itself, this isn't always the case. Rather, in many situations, it's the muscles that are actually causing the pain.
Muscle tightness in the hip flexors, thighs, or hips can actually translate up the spine to disrupt the alignment of your pelvis and spine. With the proper chiropractic releases, this tightness (and any related stiffness) can be relieved.
Make An Appointment To Loosen Up That Stiff Back
Glacier Chiropractic in the Ballard neighborhood of Seattle, Washington, offers complete and professional chiropractic care and adjustments. If you have a stiff back and are interested in learning more about what chiropractic care can do to help you, please contact us today and book an appointment.