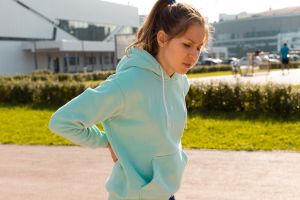 At Glacier Chiropractic, we've helped many patients heal from sports injuries in the Seattle and Ballard area. Nagging pain keeps athletes from peak performance, and failure to treat even minor joint and muscle problems might lead to more severe issues down the line.
Sports injury chiropractors specialize in spinal adjustments and can teach you stretches, exercises, and many techniques to help you heal from the most common sports-related injuries.
Lower Back & Hip Injuries
Shoulder Injuries
Knee Injuries
Treating Back & Hip Pain
Many types of sports can wreak havoc with your back and hips. Running, cycling and football are obvious candidates, but even activities like swimming and golf can leave an athlete with hip or back pain due to strains and sprains.
Taking pain medication can mask the symptoms, but getting treated early is key to avoiding further complications. Chiropractors are perhaps best known for their success in treating back pain, but can also help with hip injuries and other lower back and leg issues.
Chiropractic Treatment For Shoulders
From AC joint subluxations to frozen shoulder, rotator cuff tears and sprains to tendinitis and bursitis, shoulder injuries are common among athletes of all ages. Sport injury chiropractors can help with many of these common shoulder issues and often help patients heal without painful surgery.
How Can A Chiropractor Help With Knee Pain?
Chiropractors don't just specialize in back treatment; they can also help with various knee problems. In many cases, sports-related knee pain isn't acute, but rather caused by long-term wear and tear on the cartilage.
Because chiropractors specialize in non-invasive healing methods aimed at strengthening the body and increasing range of motion, they can help patients avoid painful knee surgery and long-term use of medication.
Prevention Is The Best Course Of Action
No athlete wants to get hurt. Keeping the spine in proper alignment and learning proper stretching techniques can go a long way towards preventing injuries from occurring in the first place. Regular chiropractic adjustments and spinal manipulation can help increase your range of motion and flexibility, which can, in turn, reduce your likelihood of getting hurt when playing sports.
The Benefits Of Chiropractic Care For Athletes
Holistic — Focuses On The Entire Body
Can Help Reduce Pain & The Need For Medication
Increases Strength
Improves Gait
Increases Range Of Motion
Can Shorten Recovery Time
Chiropractic Care For Sports Injuries In Seattle 
If you are recovering from a sports injury in the Seattle area and are looking to avoid surgery or pain medication, Glacier Chiropractic might be able to help. The expression "no pain, no gain" is simply untrue. Call us to learn more about chiropractic care for athletes and to schedule a consultation today.