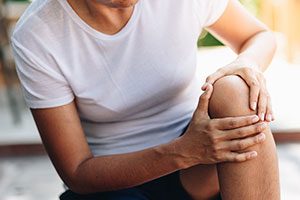 Find relief from you neighborhood knee pain chiropractor in Seattle at Glacier Chiropractic. Many suffer needlessly because they are simply unaware that there are options that are safe and effective when dealing with knee pain. We look forward to helping you explore all of your options.
What Causes Knee Pain?
Knee pain can be the result of injuries, health problems, and arthritis. A knee injury can affect any part of the knee or the surrounding areas. Some examples of the most common causes of knee pain are:
ACL Injury
Fractures
Torn Meniscus
Knee Bursitis
Patellar Tendinitis
Loose body
Iliotibial Band Syndrome
Dislocated Knee Cap
Hip Or Foot Problems
Osteoarthritis
Rheumatoid Arthritis
Gout
Risk Factors & Potential Complications
Many risk factors that can increase your chances of developing knee pain such as excess weight, lack of flexibility, sports, repetitive movements, and previous injuries. Some injuries and medical problems can lead to increased pain and damage when they are left untreated.
Even minor injuries can increase your risk of having similar injuries in the future. It just makes sense to have your knee pain checked out by our experienced professionals at Glacier Chiropractic.
What Are My Treatment Options?
We take your pain seriously. We know that this discomfort can greatly decrease your quality of life, productivity, and ability to participate in sports or other physical activities. If you've been told that addictive prescription pain killers are your only treatment option, we want to offer you more hope. See us for knee pain relief that is safe, effective, noninvasive, and natural.
How We Can Help You
Our goal is to help you achieve relief through professional knee pain chiropractic treatments. You will be given a thorough examination where we will create a customized care plan tailored to your unique needs. You will then receive regular, effective care to help manage and relieve your pain symptoms.
Chiropractic Care For Healing & Relief
Chiropractic adjustments reduce joint restrictions. This decreases inflammation and improves the function of the affected area and total nervous system. These knee pain treatments, therefore, improve healing throughout the body.
Get Help With Knee Pain Today
Here at Glacier Chiropractic, we offer same day service, so we are able to help you resolve your knee pain in a quick and timely manner. Save time by calling for an appointment or come by our Seattle, Ballard Neighborhood office during our regular business hours. We look forward to assisting you.