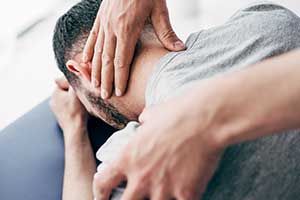 Chiropractic care is a very effective treatment for whiplash injuries.  It quickly reduces inflammation and helps with pain management. Glacier Chiropractic in Seattle offers individualized treatment plans to address and resolve your head, and neck injuries as a result of whiplash.
What Is Whiplash?
Per the Mayo Clinic, whiplash results from sudden, rapid back-and-forth movement or trauma of the head and neck. The most common cause of whiplash is car accidents, especially rear-end collisions.  However, this condition can also result from activities like playing sports.
How Long Does Whiplash Pain Last?
For many people, whiplash aches and pains may mend in a week or two. However, other individuals can develop chronic pain or discomfort, especially if left untreated. It is wise to seek care before a chronic condition develops further, even if you think you may not need medical attention.
How Does A Chiropractor Evaluate My Injury?
Your chiropractor will want to determine how your whole spine has been affected by your injury and will possibly order an x-ray or MRI. They will use touch (palpation) to identify any areas of tenderness, tightness, or limited joint motion. Observing how you walk can help your chiropractor evaluate your spinal alignment.
Treatments For Whiplash
After assessing how severe your condition is, your chiropractor will tailor a set of treatments for you. These programs might include:
Gentle Stretching
Spinal Manipulation
Ultrasound
Electrical Stimulation
At-Home Treatments
Gentle Stretching
With this hands-on technique, a chiropractor assists you in performing slow moving, gentle stretches to increase range of motion and gently tone and relax your muscles.
Spinal Manipulation
This may be the most well-known chiropractic treatment to many of us, and it has many variations. Whether simply by hand or assisted with an instrument, the practitioner will apply force and manipulate your spine. This will help to correct any spinal discs that are out of alignment.
Ultrasound
This non-invasive technique is frequently used to treat whiplash. A chiropractor uses ultrasound waves to increase your blood circulation to the affected area which in turn will help alleviate muscle stiffness and joint pain.
Electrical Stimulation
Also called "interferential electrical stimulation," this form of therapy soothes your muscles using a low-frequency electrical current.
At-Home Treatments
Your chiropractor may recommend at-home treatments including ice packs or a heating pad. A specialist may provide you with a routine exercise routine to practice at home. Your consistency in following their directions will be a factor in your recovery.
Whiplash Treatment In Seattle, Washington
If you are ready to begin treatment for whiplash, call Glacier Chiropractic in Seattle, Washington. Based in the Ballard neighborhood, we treat many different conditions (sciatica, back pain, migraines, fibromyalgia, herniated discs, and scoliosis, to name a few). Our experienced staff will create a treatment plan just for you.