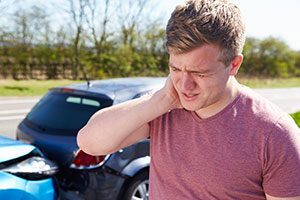 If you have been in a recent car accident and are experiencing severe pain, weakness, coordination or balance problems, trouble sleeping, tingling, numbness, or weakness in your hands, shoulder, or neck, you may be suffering from whiplash. At Glacier Chiropractic, we specialize in whiplash treatment in Seattle's Ballard area. We understand that even minor accidents can result in whiplash, and we are here to help you recover fully.
What Is Whiplash?
Whiplash injuries occur when the head is suddenly and forcefully moved back and forth, causing damage to the soft tissues in the neck. Symptoms of whiplash include neck pain, stiffness, headaches, dizziness, and fatigue. These symptoms can range from mild to severe and significantly impact a person's quality of life.
Diagnosing Whiplash
Depending on the accident, whiplash can be difficult to diagnose. Sometimes the impact could be unknown, such as forgetting that you fell awkwardly during a sports game. See a chiropractor if you're feeling neck pain or stiffness in your upper body. We have the knowledge and experience to help ease the aches and pains caused by whiplash.
Chiropractic Treatment Can Help
Chiropractors are trained to assess and treat musculoskeletal injuries, including whiplash. We use a variety of techniques to help alleviate pain and restore mobility, such as spinal adjustments, massage therapy, and rehabilitative exercises. Chiropractic care is a natural, drug-free approach to treating whiplash injuries and can be a valuable alternative to traditional medical care.
Benefits of Chiropractic Care
Chiropractic care can offer several benefits for people suffering from whiplash injuries. Some of these benefits include:
Pain relief: Adjustments can help reduce pain and inflammation in the neck and upper back.
Improved mobility: Can restore range of motion in the neck and shoulders, allowing for better mobility and flexibility.
Faster healing: Can speed the healing process and reduce the risk of long-term damage from whiplash injuries.
Non-invasive: Is a non-invasive approach to treating whiplash injuries, which means no needles or surgery is involved.
What To Expect During Your Visit
We will thoroughly evaluate the patient's condition during your visit, including a physical exam and medical history review. We will then develop a personalized treatment plan that may include spinal adjustments, massage therapy, and rehabilitative exercises. We work to address the root cause of the injury rather than simply masking the symptoms with medication.
A Comprehensive Treatment Plan
While chiropractic care can be a valuable standalone treatment for whiplash injuries, it can also be part of a comprehensive treatment plan. This may include working with other healthcare professionals, such as medical doctors, physical therapists, and massage therapists, to provide a well-rounded approach to healing.
Don't Ignore Symptoms
Ignoring minor symptoms of whiplash can lead to chronic neck pain and permanent injury. Therefore, addressing and alleviating symptoms before they get worse is important. With the help of a chiropractor, these symptoms can be treated and healed, regardless of whether or not you have clinical whiplash.
Length Of Recovery
Depending on your age and pre-existing conditions, recovery from whiplash can take anywhere from a week to several months. With the help of a whiplash chiropractor, treatment and recovery can be achieved in as little as three months. After adjustment, at-home care is necessary to accelerate your body's natural healing ability.
Reducing Pain At Home
To reduce pain and inflammation, we recommend icing your neck for 15 minutes every 3-5 hours, using painkillers or muscle relaxants as prescribed, and using a neck brace or collar for short-term support. After the swelling has subsided, apply moist heat, such as a wet towel or a warm bath.
Common Whiplash Questions From Our Patients
Is chiropractic care safe for whiplash injuries?
Yes, chiropractic care is a safe and natural approach to treating whiplash injuries.
How long does it take to recover from a whiplash injury with chiropractic care?
Recovery time varies depending on the severity of the injury, but chiropractic care can help speed up the healing process and reduce the risk of long-term damage.
What should I expect during a chiropractic visit for whiplash?
During a visit, the chiropractor will thoroughly evaluate your condition and develop a personalized treatment plan that may include spinal adjustments, massage therapy, and rehabilitative exercises.
Can chiropractic care help with other types of injuries?
Yes, chiropractic care can effectively treat various musculoskeletal injuries, including back pain, neck pain, and headaches.
Will my insurance cover chiropractic care?
Many insurance plans cover chiropractic care, but it is important to check with your provider to see what is covered. Some plans may require a referral from a medical doctor before covering chiropractic services.
Chiropractic Consultation & Adjustment In Seattle
If you're experiencing whiplash symptoms, seeking medical attention as soon as possible is crucial. Glacier Chiropractic is here to help with chiropractic whiplash treatment in Seattle's Ballard area. We're always accepting new patients. Schedule an appointment with us now for a professional consultation and adjustment.