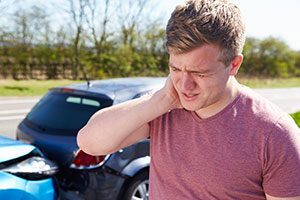 At Glacier Chiropractic, we specialize in chiropractic whiplash treatment in the Ballard area of Seattle. If you've been in a car accident recently and have been experiencing any of these symptoms:
Severe pain
Weak neck
Coordination or balance problems
Trouble sleeping
Tingling, numbness, or weakness that affects your hands, shoulder, or neck
Behavioral changes, such as irritability, depression, etc.
What Is Whiplash?
You may suffer from cervical acceleration-deceleration (CAD) syndrome, more commonly known as whiplash. After an accident, it may take more than 24 hours for symptoms to show up, which is why you must find medical assistance on the day of the accident or as soon as possible. Whiplash can occur from low impacts such as being rear-ended at 6 MPH or even riding a roller coaster. If you've been in a minor accident, it's still advised to seek medical attention. Minor symptoms can include:
Headache
Neck stiffness
Reduced range of motion
Shoulder & back pain
Don't Ignore Those Dull Aching Pains
Depending on the accident, whiplash can be difficult to diagnose, and sometimes the impact could be unknown, such as forgetting that you fell awkwardly during a sports game. It's essential to see a chiropractor if you're feeling any kind of neck pain or stiffness in your upper body. Glacier Chiropractic has the knowledge and experience to help ease the aches and pains caused by whiplash.
Alleviate Whiplash Symptoms Before They Get Worse
It is common for most people to ignore the minor symptoms of whiplash because it could easily be shrugged off as pain associated with aging or everyday stressors. With the help of a chiropractor, these symptoms can be addressed and alleviated, regardless of whether or not you have clinical whiplash.
At-Home-Care Is Important To Recovery
With the help of a whiplash chiropractor, treatment and recovery can be achieved in as little as three months. After your adjustment at Glacier Chiropractic, at-home care is necessary to accelerate your body's natural healing ability. To reduce pain and inflammation, we recommend the following:
Ice your neck for 15 min. every 3-5 hrs.
Use painkillers or muscle relaxants as prescribed
Use a neck brace or collar for short-term support
After the swelling has subsided, apply moist heat, such as a wet towel or a warm bath.
Take It Easy
Everyone's body heals differently, depending on your age and other pre-existing conditions you had before the accident. It could take anywhere from a week to several months to fully heal. The sooner treatment is applied, the faster you will recover. Ignoring the symptoms of whiplash can cause chronic neck pain, which would result in permanent injury.
Drop by Our Office For A Professional Consultation & Adjustment
Glacier Chiropractic is here to help with chiropractic whiplash treatment. We're located in the easily accessible Ballard area of Seattle. We're always accepting new patients. Schedule an appointment with us now.