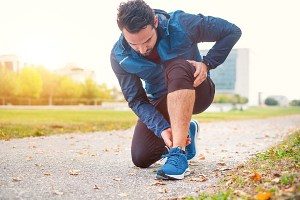 If tarsal tunnel pain is keeping you down, Glacier Chiropractic in the Ballard, Seattle area can help. We provide nonsurgical, alternative treatments to help get you back on your feet.
What Is Tarsal Tunnel Syndrome?
Tarsal tunnel syndrome resembles carpal tunnel syndrome, except that it affects your ankle, rather than your wrist. The primary cause of this condition is compression of the tibial nerve, which runs down the back of your leg to the tarsal tunnel. The tarsal tunnel is a narrow space on the inside of the ankle next to the ankle bones.
Compression damages the tibial nerve. When left untreated, tarsal tunnel syndrome can cause permanent and irreversible nerve damage. Over time you may develop severe, debilitating foot pain that affects your ability to both stand and walk.
Causes Of Tarsal Tunnel Syndrome
How did this happen? Unless you can pinpoint the start of your symptoms, you may have asked yourself this question many times. Multiple conditions can create tibial nerve compression resulting in tarsal tunnel syndrome.
Flat Feet Or Fallen Arches
Benign Bony Growths In The Tarsal Tunnel
Inflammation Caused By Diseases Such As Arthritis Or Diabetes
Certain Types Of Varicose Veins
Swelling Due To A Sprained Ankle
Tarsal Tunnel Symptoms
These symptoms may come on gradually or suddenly. Your tarsal tunnel pain may be worse when you are on your feet but can even affect you when you are resting. The following symptoms may be felt anywhere along the tibial nerve, on the sole, or along the side of the ankle:
Pain, Tingling & Numbness
A Feeling Of Pins & Needles
A Burning Sensation
A Feeling Like An Electric Shock
Can Chiropractors Treat Tarsal Tunnel Foot Pain?
Traditional treatment for tarsal tunnel syndrome includes taking NSAID drugs, steroids, or even undergoing surgery. Your Seattle chiropractors at Glacier Chiropractic offer an alternative approach to pain relief and healing.
We strive to treat your symptoms and improve your range of motion through complementary therapies such as chiropractic adjustments, stretching, physical rehabilitation, and other noninvasive treatments.
Walk Away From Tarsal Tunnel Pain
Foot pain can be debilitating, but natural treatments are available. Contact Glacier Chiropractic today and make an appointment at our convenient Seattle area office, to explore your options. Our expert, caring providers are eager to help you achieve the pain-free, active lifestyle that you deserve.