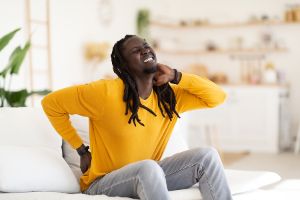 Spine misalignment is all-too-common in this modern technological age. Between hunching over textbooks in our youth, sitting at office desks as adults, and staring down at our smartphones daily, it's no wonder many people experience varying degrees of chronic back and neck pain. Here are five additional signs it might be time to get your spine readjusted.
You Often Have Tension Headaches
Your Legs Are Different Lengths
You Often Feel Stiff, Sore, Or Fatigued
You Have Numbness, Tingling, Or Pins & Needles
You No Longer Have A Full Range Of Motion
1. You Often Have Tension Headaches
Spine issues can cause pain in more areas than your back and neck alone. In particular, problems originating from the top seven vertebrae can often cause cervicogenic headaches.
2. Your Legs Are Different Lengths
If one of your legs appears shorter than the other, or the soles of your shoes wear out at different rates, you might have a misaligned pelvis. A chiropractor can adjust the base of your spine to get your hips even again.
3. You Often Feel Stiff, Sore, Or Fatigued
Whether you're waking up stiff every morning or simply feeling run down all the time despite consistently getting eight hours of sleep, back issues are often to blame. Chronic stiffness and soreness are the most prominent signs that your joints and muscles cry out for relief.
4. You Have Numbness, Tingling, Or Pins & Needles
Many nerve-related conditions in the extremities can be traced back to a misaligned spine, as it is the backbone of the central nervous system. If you're experiencing shooting pains, pins, needles, tingling, or numbness in your arms and legs, it may be time to seek chiropractic care and adjust your spine.
5. You No Longer Have A Full Range Of Motion
A chiropractor can also treat other spinal issues, such as decreased mobility. Whether you find that you can't turn your head as far as it used to, you can't bend over much anymore, or your knees are locking up more often, a chiropractic adjustment can be a great way to get back to feeling like yourself again.
How A Chiropractor Can Help
Routine chiropractic adjustments can help realign your spine and restore proper nerve function, relieving pain, improving mobility, and even reducing the risk of more severe issues like slipped discs, sciatica, and spinal stenosis. Plus, it can help you get back to feeling your best!
Chiropractic Care In Seattle & Ballard, WA
If you notice any of these symptoms, consider scheduling a chiropractic adjustment. Regular visits to the chiropractor can help keep your spine correctly aligned, improving overall well-being and reducing the risk of chronic pain and other health complications. So schedule an appointment with Glacier Chiropractic today and get on the path to better health.