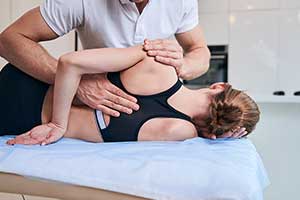 Chiropractic treatment is an excellent choice for pain relief and general wellness. As you seek the right provider, you may have questions about the different options available to you. One of the common questions is, "What is the difference between traditional chiropractic care and sports chiropractic care?"
Traditional Chiropractic Practices
Traditional chiropractic care supports overall health. It primarily focuses on diagnosing and treating any issues people may have within their musculoskeletal and nervous systems. Although many patients schedule regular treatments as a way to stay healthy, others seek this type of treatment when they are experiencing ailments.
Joint Issues
Whiplash Recovery
Spinal Injuries
Limited Flexibility
Who Do Traditional Chiropractors Treat?
This is an easy question to answer, traditional practitioners, treat everyone in every season of life.
Children
Teens
Adults
Pregnant Women
Seniors
Sports Chiropractic Treatments
This is a specialized branch of healthcare that focuses on the needs of recreational as well as professional athletes. Certified sports chiropractors address issues related to participation in sports.
Recovery From Intensive Training Exercises
Healing From Past Injuries
Preventing Future Injuries
Increasing Range Of Motion
Reducing Tension In Muscles & Ligaments
Improving Muscle Tone
Relieving Pain After A Sports Event
Goals Of Sports Chiropractic Care
This range of treatments focuses on getting the athlete back into shape and back into their game. Practitioners assess injuries and help athletes to recover through non-invasive treatments such as joint manipulation.
What Types Of Athletes Seek Chiropractic Treatments?
Football
Baseball
Soccer
Tennis
Hockey
Running
Bicycling
Golf
Climbing
Swimming
Horseback Riding
How Does Sports Chiropractic Treatment Prevent Future Injuries?
An experienced sports chiropractor will study your stride and your movements in order to see where your body could be functioning more smoothly. They can help you improve any weak areas they discover.
Glacier Chiropractic Offers Both Types Of Care
We can meet all your chiropractic needs, including traditional and sports injury treatments. Our team has experience in treating many different ailments.
Migraines
Herniated Discs
Scoliosis
Sciatica
Back Pain
Sports Injuries
Fibromyalgia
Dislocations
Car Accident Injuries
Personal Care in Ballard & The Seattle Area
Visit our location in Ballard to meet our friendly and experienced staff. We look forward to creating a personalized treatment plan for you so that you can get back into life (or back into the game) without pain.