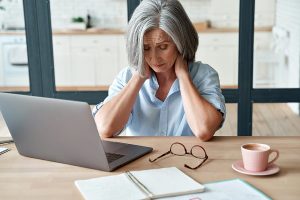 These days, more and more of us are working from home. More dining tables, study desks, and spare rooms are being converted into home office spaces. If your home office setup is leaving you with a literal pain in the neck or back, there are some simple steps you can take.
Create An Ergonomic Home Office Space
Use A Chair That Supports Your Back
Get Up & Move Periodically
Be Mindful Of Your Posture
Keep Your Monitor At Eye Level
Do Not Cradle Phone With Your Neck
Consider Standing During Meetings & Phone Calls
#1 Add Ergonomics
Trying to work from home on the couch, bed, or dining room table could be causing you both neck and back pain. An ergonomic home office can help to ease that discomfort. When using the keyboard and mouse, wrists should be straight and flat, lined up with your forearms. Elbows should be bent at a 90-degree angle, relaxed, and close to your body.
#2 Pick Supportive Seating
Sitting at a desk all day, every day is hard on your back. A supportive chair can reduce pain. Use a chair that provides back support or add a folded towel secured with rubber bands to add extra support where needed. Your feet should be able to sit flat on the floor.
#3 Get Moving For More Comfort
Set reminders to get up and move around throughout the day. Walk around your house or yard a few times or do a few simple stretches. Moving and stretching those muscles will release stiffness and improve circulation.
#4 Bad Posture Is A Real Pain
When sitting at the desk working, it is also essential to be mindful of your posture. Avoid slouching, and don't cradle that phone between your ear and shoulder.
#5 Lift Your Monitor & Your Eyes
Using a book stand can help if you spend a lot of time typing while staring down at your desk. This allows you to lift those documents and your head, keeping your neck in a better position. The top of your screen should be at eye level. If you use a laptop, consider raising the laptop and using a separate keyboard.
If that is unfeasible, place a strip of tape at eye level above your monitor and look up at it every 15-20 minutes.
#6 Give Your Neck A Break – Try Hands-Free
Cradle your phone in your neck long enough, and you're going to end up with sore, stiff muscles. Pick up a headset to keep your hands free for taking notes or completing tasks while answering work-related calls.
#7 Stand During Meetings & Phone Calls
Those virtual meetings and phone calls are also great opportunities to stand up and move around rather than sit. Stand desks can be an investment in your long-term spinal health.
Is It Time To Seek Professional Help?
If you're feeling the strain from working at home in a less-than-ideal environment, improving your workstation may offer relief. But, if you continue to experience any of these symptoms, you may need help from a chiropractor to improve that pain.
Continued Back & Neck Pain
Chronic Should Pain
Frequent Headaches
Numbness/Tingling
Decreased Range Of Motion
Back & Neck Pain Chiropractor In Seattle
Glacier Chiropractic in Seattle's Ballard Neighborhood offers you safe, natural solutions for your work-related back and neck pain. You don't need to continue to suffer. Contact us to set up your appointment today.