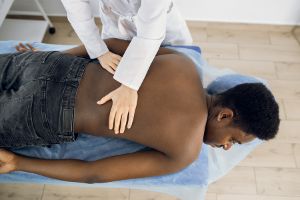 Muscle knots in your back, neck, or shoulder can cause persistent aches and tenderness. It's essential to understand how they form and what you can do to ease the tension. Home remedies combined with professional care can help prevent knots from forming. The team at Glacier Chiropractic has provided the following guide to help you understand and avoid soreness and discomfort.
What Are Muscle Knots & What Symptoms Do They Cause?
When stiff muscles form a hard knob or trigger point, it's called a knot. Eventually, radiating pain may spread outward from the trigger point, affecting other body areas. When you touch it or use the damaged muscle, you can experience a variety of symptoms. You'll often find muscle knots in your shoulders but you can also find them in your back and neck.
Referred Pain In Other Muscles
Limited Range Of Motion
Ringing In The Ears
Lingering Pain
Tension Headache
Sore Spot That Doesn't Go Away
Trigger Point Causes & Solutions To Ease Pain
What causes a muscle knot? It's sometimes hard to pinpoint the exact cause of trigger points. However, many factors increase the likelihood that you will develop knots. Poor posture, sitting for long periods of time, heavy lifting, and overuse are the most likely causes. There are other causes that are less obvious that you will want to watch out for.
Emotional Stress
Fatigue & Difficulty Sleeping
Poor Diet
Dehydration
Unhealthy Eating Habits & Vitamin Deficiencies
Joint Problems
Prevention Tips To Avoid Painful Knots
Prevention is the best possible solution to avoid developing knots in your neck, back, and shoulders.  Ensure you stay hydrated and eat a healthy diet that includes vital nutrients like potassium and calcium.  It's also crucial to keep stress to a minimum and to keep muscles limber while avoiding too much strain. Good posture and frequent breaks from sitting hunched in front of a computer screen also help.
Drink Lots Of Water
Include Sufficient Potassium & Calcium In Your Diet
Get Help Lifting Heavy Objects
Maintain A Good Posture (Chin Up, Shoulders Back, And Spine Straight)
Take Screen Breaks Often
Stretch & Flex Your Muscles
Minimize Stress
How Do You Release A Muscle Knot?
There are many ways to treat a muscle knot and obtain pain relief at home, from self-massage and hot soaks to exercise meditation and hot and cold therapy. However, chiropractic care is one of the best ways to release knots and prevent them from reforming. Ask your chiropractor which of these home remedies might work for you.
Hot & Cold Therapy
Regular Exercise
Soaking In A Hot Tub
Yoga & Meditation
Rubbing The Muscle Knot
Consider Chiropractic Treatment To Relieve Muscle Knot Pain
Muscle knots may cause dysfunction if left untreated. Chiropractic care eases the tightness and tenderness of the impacted tissues. Additionally, spinal manipulation realigns the spine, restoring your range of motion and relieving tension in the affected tissues and joints. Contact Glacier Chiropractic today to make an appointment for chiropractic care near Seattle & Ballard.