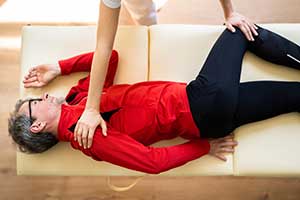 Many people seek chiropractic care as a holistic alternative to prescription medications and other treatments. In a recent consumer survey, patients reported that chiropractic treatment gave them better relief than other pain treatments (including pharmaceuticals, deep-tissue massage, yoga, and Pilates). However, about twenty percent of new chiropractic patients report experiencing a few brief cold or flu-like symptoms after their first visit.
What Causes Toxic Release?
"Toxic Release" may sound like a frightening term, but it is simply a side effect. It is your body's response to the chiropractic adjustment. It is an indication that your treatment did indeed work, and you are on the road to recovery.
Toxic Release Indicates The Success Of Your Adjustment
As chemical signals travel up and down your spine, they are occasionally interrupted by a subluxation within the spine. "Subluxation" describes a spinal vertebra that is out of line with the other vertebrae around it. This unaligned vertebra interrupts the spinal signals and causes a build-up of pressure within your body, affecting your blood flow and many different organs and functions.
What Is Toxic Release?
When a chiropractor adjusts your spine, the pressure build-up is released, and with it, a few toxins. You can imagine toxic release as a bunch of toxin-containing bubbles suddenly bursting. This release is a positive outcome, as you don't want pressure and toxins to accumulate within you.
What Are The Symptoms Of Toxic Release?
Headache
Tiredness
Muscle Tightness
Dizziness
Stomach Upset
Diarrhea
Night Sweats
A Flu-Like Feeling
How Long Will This Toxic Release Last?
The symptoms will pass quickly, within one or two days. If you are not recovering, call your chiropractor and ask for advice. Chiropractors are very familiar with this condition.
Will I Experience Toxic Release With Every Adjustment?
No. You do not need to worry that you will experience these side effects every time you go to the chiropractor. The toxic release is most intense at your first appointment, and any further symptoms should be much milder or even non-existent.
Chiropractic Care In Seattle, Washington
Are you ready to make an appointment for chiropractic care? Glacier Chiropractic is ready to answer all of your questions and concerns. Located in the Ballard community in Seattle, Washington, Glacier Chiropractic offers many holistic treatments to help you find relief and get back into life. Our licensed chiropractors are experienced and caring. Call us today.