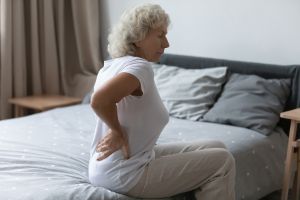 With roughly 10 million Americans living with osteoporosis and an additional 44 million at risk for developing the disease due to low bone density, chiropractic care has powerful treatment potential. Glacier Chiropractic is here to answer all questions and explain the link between bone health and chiropractic care. We'll also reveal five benefits of managing your osteoporosis.
What is osteoporosis?
How is it different from osteoarthritis?
Is chiropractic care an effective treatment for osteoporosis?
Are there other ways to promote bone health?
What Is Osteoporosis?
Osteoporosis is a progressive bone-weakening disease that makes bones more susceptible to breaking. Often called a "silent disease" because you can't see or feel the changes in your bones until a break or fracture occurs, it leads to approximately two million broken bones a year—many from minor falls.
How Is Osteoporosis Different From Osteoarthritis?
Wondering what the difference is between osteoporosis and osteoarthritis? The former refers to the loss of bone mass, while the latter involves the degeneration of joints. While osteoporosis is a painless condition until a problem arises, osteoarthritis is a painful disease that can compromise joint function and mobility.
Is Chiropractic Care An Effective Treatment?
While there is no cure for osteoporosis, there are many things you can do to improve your bone health and for pain management—including seeking chiropractic care. Specifically, chiropractic care has been associated with the following five benefits:
Relieving Painful & Debilitating Symptoms
Enhancing The Body's Natural Healing Processes
Restoring Range Of Motion
Improving Mobility (& Lessening Fall Risks)
Enhancing Confidence
*Chiropractic care can involve putting pressure on the bones, so it may not be suitable for all people with osteoporosis. Consult a qualified healthcare provider to determine if it's safe for you.
Other Ways To Promote Bone Health
As always, be sure to consult with your doctor before making any major lifestyle changes. In addition to visiting your chiropractor, other strategies for treatment and prevention include:
Engaging In Regular Weight-Bearing & Muscle-Strengthening Exercises
Eating Nutrient-Rich Leafy Greens & Limiting Salt & Sugar Consumption
Meeting Daily Vitamin D & Calcium Requirements
Limiting Alcohol, Smoking, & Caffeine
Losing Or Gaining Weight
Taking Medication
Improve Your Bone Health With Us In Seattle & Ballard
Glacier Chiropractic specializes in providing effective chiropractic solutions designed to realign your bones and joints, alleviate pain, and increase your body's range of motion toward enhanced overall physical and emotional well-being.
To learn more about how our experienced and empathetic chiropractic team can help you manage your osteoporosis or other ailments in the Seattle and Ballard area, contact Glacier Chiropractic today.