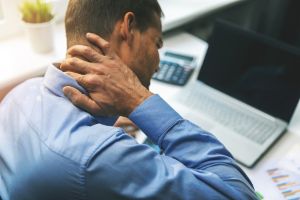 If you live in the Seattle area and a work injury is causing back, neck, or other nerve pain, Glacier Chiropractic may be able to help. The sooner you get started on a healing regimen, the better. Some of the benefits of an early chiropractic intervention for workplace injuries include a reduction in inflammation and pain, increased range of motion, and a reduced risk of developing scar tissue.
Slips & Falls
Repetitive Stress Injuries
Struck By Objects
Overuse & Exertion
Back Trauma Due To Lifting Or Lowering
Pill-Popping Isn't The Answer
Taking an occasional anti-inflammatory may not be that big of a deal, but if your job is causing you to reach for the pain pills every day, something isn't right. Masking symptoms may cause them to go away for a little while, but pain pills won't cure the underlying condition.
Without treatment, your injury and your need for medication will likely get worse over time.
A Treatment Plan Tailored Just For You
Chiropractic care for common occupational injuries is a natural, drug-free solution that aims to identify and treat the root cause of your pain. The first step is to identify the problem through a series of questionnaires and an initial exam.
We may ask you to undergo X-rays or even refer you out for an MRI. Depending on our findings, we will develop a treatment plan to target your specific needs.
Techniques To Help Heal Workplace Injuries
Our chiropractor is dedicated to helping patients heal from injury using a variety of holistic techniques. When your spine is misaligned, your entire body can be affected. Proven chiropractic methods can help relax your muscles and take the pressure off your nerves and discs. They can also increase your range of motion and improve your blood flow to aid the healing process.
Spinal Manipulation
Myofascial Release
Soft Tissue Manipulation
Arthrostim
Posture Correction
At-Home Exercises & Stretches
Chiropractic Care For Injury Prevention
Chiropractic care isn't just for those who have an existing injury or condition requiring treatment. A regular course of spinal adjustments and exercises prescribed by your chiropractor can help increase your flexibility and range of motion.
Keeping your spine properly aligned can also improve your coordination and reduce your risk of nerve and overuse injuries.
Workplace Injury Treatment in Seattle
If you've been injured at work or have a repetitive stress injury such as carpal tunnel syndrome, call Glacier Chiropractic, conveniently located in the Ballard neighborhood. We are committed to helping our patients naturally heal from physical trauma.
Call today to schedule an appointment so that you can get started on the path to recovery.