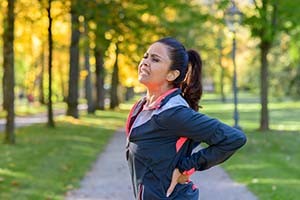 To get to the bottom of your acute lower back pain and finally find real relief, come to Glacier Chiropractic, serving you in Seattle and the Ballard Neighborhood of Washington. You might think your only option is drugs or fear that your doctor will suggest drastic measures. Our chiropractors, however, offer effective, nonsurgical treatments for the root causes of lower back pain to help you find lasting results.
What Is Acute Lower Back Pain?
If the pain you're feeling came on suddenly and lasts from a few days to a few weeks, then it's acute. Low back pain can be a sign of something wrong with your spine, but problems in your feet can contribute to low back pain as well. When your feet aren't working as they should, this puts additional stress on leg and back muscles.
Common Back Pain Causes
The most common cause of low back pain is muscle strains due to an injury. We also lose spinal fluid as we age, making our backs more prone to injury and irritation. Some conditions affecting the spine and bones of the feet can result in lower back pain as well. Many common causes of acute lower back pain can be treated with noninvasive chiropractic care.
Muscle Spasms & Tension
Fallen Arches
Morton's Neuroma
Plantar Fasciitis
Spinal Stenosis
Spondylolisthesis
Chiropractic Care For Acute Lower Back Pain
The cornerstone of our acute lower back pain treatments is chiropractic adjustments to realign your spine and the bones of your feet. Chiropractors may also use heat and cold to numb and relax the muscles during therapy. Your chiropractor may even teach you exercises to perform between sessions for continued healing. Other treatment options include ultrasound, which uses sound waves to massage muscles, and electric muscle stimulation that uses electrical pulses to reduce inflammation and relieve pain.
Start Feeling Better Today
At Glacier Chiropractic, we want to help you find acute lower back pain relief right here in the Seattle area. To explore our personalized alternative back pain treatment options, just call and schedule your appointment today. We accept most insurance plans and offer affordable payment options for patients who prefer to pay with cash. Our new patient forms are available online, so you can fill them out at home and spend less time waiting.