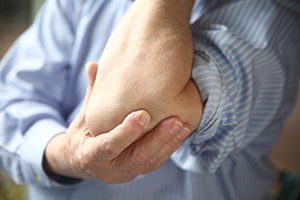 Find relief and healing for your problems with tennis elbow in the Seattle, Ballard neighborhood area at Glacier Chiropractic. We offer drug-free, surgery-free, pain relief options for all types of sports injuries that are both safe and natural.
What Is Tennis Elbow?
As you probably know, despite the name, tennis elbow is not something that only plagues tennis players. Anyone that uses repetitive arm motions for work or sport is susceptible to tennis elbow. Sports injuries can lead to tennis elbow as well.
Tennis elbow is a type of tendonitis, or tendon inflammation, that typically affects adults between the ages of 35 – 55. It is often the result of tendon degeneration.
Though the injury is in the elbow itself, pain is often felt when using your hands. One of the primary symptoms is discomfort with certain movements or activities.
Opening Doors Or Turning Doorknobs
Lifting
Gripping Objects
Making A Fist
Holding Cups
Shaking Hands
Raising Hand
Straightening Wrist
The Same Old Tennis Elbow Treatments
There are not many traditional medical treatments for tennis elbow. You may have been told to take over the counter medications, for pain and inflammation, and rest. Steroid injections and surgery are also sometimes recommended for chronic hand and elbow pain.
We approach your condition differently, helping you heal from the inside out.
Effective, Alternative, Chiropractic Care
Many people are not happy with the treatment options offered by other medical professionals. But why just keep living with the pain? We offer chiropractic treatment for your tennis elbow pain.
We use special manipulation and adjustment techniques that can help to reduce and eliminate the pain from your tennis elbow. We can teach you exercises which can help you to recover from tennis elbow quickly. We can also give you advice on how to prevent you from reinjuring your elbow in the future.
What Is The First Visit Like?
When you come to see us for your elbow pain, we will first do a thorough exam. We ask important questions to determine the root cause of your pain and to determine if you have other problems aggravating your tennis elbow.
We will perform appropriate manipulations and adjustments and instruct you on at-home care. Together, we will develop a personalized treatment plan to keep you moving and pain-free.
Get Help With Tennis Elbow Today
Contact us at Glacier Chiropractic today to make an appointment for tennis elbow treatment. Our professional staff looks forward to meeting and helping you in the Ballard neighborhood of Seattle.