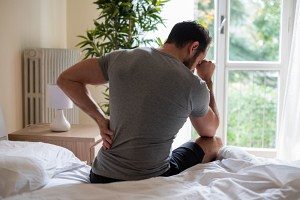 Recognize your sciatica triggers and how to avoid flare-ups with Glacier Chiropractic in Seattle. We want to help you experience a full, pain-free life without invasive surgeries or addictive pain medication.
What Is Sciatica?
Sciatica is a painful condition that affects the lower back and legs. Painful, often debilitating, symptoms are usually the result of compression or inflammation of the sciatic nerve, which is the largest and longest nerve in the human body.
Discomfort In Lower Back & Leg
Tingling In Toes & Feet
Weakness In Legs & Back
Numbness, Or "Pins & Needles" Sensations
Impaired Leg Mobility
Difficulty Getting Comfortable While Seated
Incontinence, In Extreme Cases
6 Triggers To Look Out For
Nearly 40% of Americans seek treatment for sciatica at some point in their lifetime. This condition can have a variety of risk factors, but there are some common causes of flare-ups. Watch out for these in order to avoid unnecessary pain.
Excessive Body Weight
High Heels
Insufficient Shoe Cushioning
Objects In Back Pockets While Sitting
Poor Overall Posture
Very High Levels Of Stress
Accurate Diagnosis & Personalized Care
Pregnancy and age-related conditions can also lead to lower back and leg pain. If you think you are struggling with sciatica, we can help you assess your situation to verify your diagnosis, pinpoint triggers, and develop a personalized treatment plan to alleviate your pain longterm.
Treatment Options For Leg & Back Pain
Once you've addressed possible causes of painful flare-ups, you may prefer to pursue natural, drug-free treatment for sciatica leg and back pain. Our family chiropractor will assess your situation, including your medical history and level of pain, and tailor a plan to your needs.
We may suggest changes to everyday habits, such as exercise and diet. Treatment might also include heat and ice therapy and learning stress management techniques. These things, in addition to manual manipulation and spine alignment, can lead to greater health overall, including sciatica pain relief.
Your Seattle Sciatica Chiropractor
Now that you've learned about what might be triggering your sciatica flare-ups make an appointment for lasting relief. Glacier Chiropractic is here to serve you with sciatica symptoms in the Seattle and Ballard areas. Call today to schedule your visit with one of our chiropractic care providers.