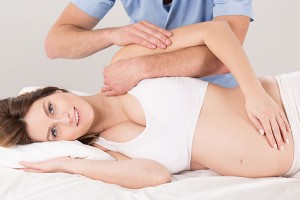 If you are wondering if chiropractic care is safe for pregnant women or are looking for a pregnancy chiropractor in the Seattle area, consider Glacier Chiropractic in Ballard, WA. We can help you with safe, natural pregnancy comfort and wellness solutions to see you through from those prenatal stages to birth.
Your Prenatal Chiropractic Specialist
While millions of Americans are turning to chiropractors each year, many still question whether chiropractic care and pregnancy is a safe combination. All licensed chiropractors are trained in treating pregnant women, and our principal chiropractor, Dr. Nevin Cokdegerli, specializes in this area. When you visit us, you can trust that you and your baby are in good hands.
Safe, Effective & Drug-Free
Prenatal chiropractic treatment is markedly different from the standard forms used on other patients. First of all, chiropractors use unique tables or additional cushions to accommodate your baby bump. They also avoid putting pressure on your abdomen. We rely on gentler techniques to treat the source of your pain in an effective and noninvasive way.
Because your ligaments are softer and more pliable, it doesn't take much effort to realign the spine and muscles during pregnancy. And since chiropractic treatment is inherently drug-free, you don't have to worry about exposing your developing baby to harmful chemicals.
Chiropractic Benefits During Pregnancy
Receiving chiropractic care during each trimester of pregnancy has many advantages. Here are some benefits that most women experience from prenatal chiropractic care:
Pain Relief For Back, Neck, Hips, And Joints
Increased Chance For Natural Birth If Desired
Reduced Labor And Delivery Time
More Controlled Nausea
A Healthier, More Comfortable You Post Baby
Postnatal chiropractic care is equally important. Often, your pelvis moves out of alignment during delivery. As pregnancy hormones leave the body and your ligaments return to their normal state, this misalignment becomes more painful. Chiropractic adjustments are an effective means of relieving this pain and getting you back into pre-baby shape.
Meet Your Pregnancy Chiropractor In Ballard
If you want to relieve pain and promote wellness throughout your pregnancy, contact us for a pregnancy chiropractic appointment at Glacier Chiropractic. We accept most insurance plans and offer affordable cash payment plans. We look forward to seeing you in our Seattle area office and making the next few months as comfortable as possible for you.