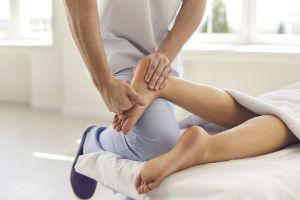 Plantar fasciitis causes heel pain and affects the bottom of the foot. It occurs when the plantar fascia connecting your heel bone to your toes swells. To soothe the resulting stiffness and discomfort in your arch and heel, consider chiropractic adjustments that can alleviate the pain so you can walk or stand comfortably. At Glacier Chiropractic, our qualified chiropractor uses a holistic approach to healing to help patients throughout Seattle and Ballard.
What Is Plantar Fasciitis?
This common condition affects the bottom of the foot and occurs when the thick band of tissue that connects your heel to your toes degenerates. This can cause pain and stiffness when you're walking or standing. Small tears and inflammation develop when the plantar fascia is damaged, leading to fasciitis.
What Are The Symptoms & Warning Signs?
Common symptoms of this condition include the following issues.
Sharp pain develops in the bottom of the heel that may increase after a period of rest.
Difficulty walking or running due to foot pain can be a telltale sign.
You may notice reduced ankle and foot flexibility.
Swelling or heel tenderness can be an indicator of plantar fasciitis.
What Causes Inflammation Of The Plantar Fascia?
Some factors that may contribute to heel pain and other symptoms include:
Overuse or repetitive stress from running, jumping, or standing for long hours can cause inflammation.
Conditions such as flat feet, high arches, or abnormal gait (step) can worsen the issue.
Being overweight or obese can put stress on feet and cause inflamed fascia.
Aging may reduce elasticity in the affected area.
What Makes Plantar Fasciitis Worse?
Not wearing supportive footwear can exacerbate foot pain. Insufficient rest and failing to warm up before running on hard surfaces can also cause plantar fasciitis. Ignoring the symptoms may increase the severity of your discomfort and delay recovery.
How Can A Chiropractor Treat Inflammation In Feet?
Chiropractic care is a non-invasive treatment that can help improve the alignment of the foot, ankle, and lower leg joints. Our experienced chiropractor can treat plantar fasciitis via holistic healing techniques.
Adjusting the foot, ankle, and lower leg joints may restore proper spine alignment and balance to your body.
Physical therapy may reduce muscle tension and improve blood circulation.
Stretching exercises may improve the stability of your foot and lower leg muscles.
Lifestyle advice on proper footwear and posture may speed healing.
What Happens If It's Left Untreated?
If left untreated, plantar fasciitis can lead to chronic heel pain and disability. It can also affect your knees, hips, back, and neck. This condition may impact your overall well-being, sometimes triggering frustration, anxiety, and depression. By seeking a qualified chiropractor, you can receive effective treatment for fasciitis and regain your foot health.
Seek Chiropractic Care For Plantar Fasciitis Relief
Chiropractic care for plantar fasciitis is a non-invasive treatment with innovative adjustments to improve the alignment and function of the foot, ankle, and lower leg joints. Our chiropractor uses natural techniques, such as spine alignment, soft tissue therapy, stretching, lifestyle advice, and physical therapy. Contact Glacier Chiropractic today to learn more about holistic healing for plantar fasciitis and other musculoskeletal conditions in Seattle and Ballard.